Digitas Announces Elevation of Four Tenured Leaders
Published January 24, 2022
Executives represent a combined 37 years at Digitas; elevations highlight the agency's growth prioritization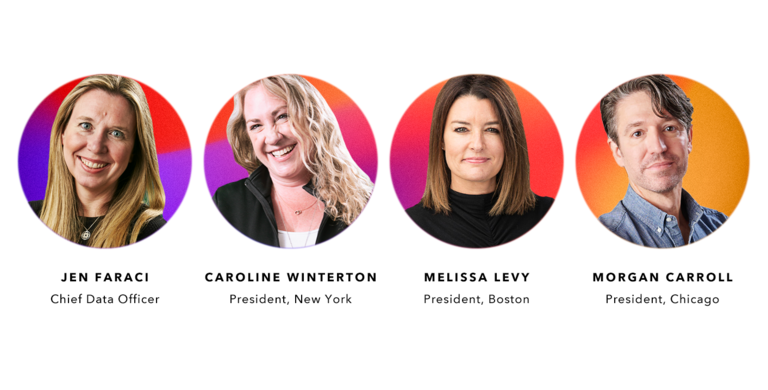 Digitas, the Connected Marketing agency, today announces the promotions of Jen Faraci to Chief Data Officer; Caroline Winterton to President, New York; Melissa Levy to President, Boston; and Morgan Carroll to President, Chicago.
Jen Faraci elevates to Chief Data Officer. Jen leads the agency's Data & Analysis (DNA) teams as well as Publicis Groupe's global Data Intelligence practice. Jen was instrumental in multiple Digitas and Groupe-wide pitches, helping the organization attract and retain critical clients, most recently for a major multinational retailer. As EVP/Head of DNA, she has created and fine-tuned data-forward solutions that deliver success for clients by focusing on both executional precision and the corresponding strategic impact. Jen is a 12-year Digitas veteran and had a career in engineering before moving into the advertising industry.
Caroline Winterton elevates to President, Digitas New York. As leader of the New York region (Atlanta & New York), Caroline oversees a team of over 600, and in just over two years as Managing Director for NY has driven growth and success for the office, with clients including Comcast, Mondelez, Under Armour, and many more. Previously, she served as the CEO of Barton F. Graf and as a Partner at Grey. 
Melissa Levy elevates to President, Digitas Boston (named the largest ad agency in Massachusetts by the Boston Business Journal) and will continue to lead Account Management for North America. Melissa has built a strong culture as Managing Director of the Boston office across a team of over 450, with clients including Talbots, CVS, Inspire Brands (Dunkin'). In her role as head of Account Management, NA, Melissa ensures development and leadership opportunities across the network. Melissa has been with Digitas for over 15 years, having started her career in startups and e-commerce.
Morgan Carroll elevates to President, Digitas Chicago. Morgan oversees the region with a client roster that includes Whirlpool, KitchenAid, Maytag, Mizkan brands, AAA/The Auto Club Group, and much more. As Managing Director, Morgan led the office to year over year growth, overseeing both business objectives and creative output for the region. He has been with Digitas for 8 years, working as a creative before making the jump to office leadership.
The announcement comes on the heels of Digitas' 3-time shortlist in the Campaign US Agency of the Year Awards: for brand experience agency, media planner, and strategic planner.
"We are thrilled to announce the elevations of Jen, Caroline, Melissa, and Morgan, four incredible leaders with a long tenure -- a combined total of almost 40 years at Digitas. Each of them is amazing and together they will drive even more growth for our talent and our clients in 2022 and beyond." – Michelle Tang, CMO, Digitas